[News] Grant application for CiCLE, AMED is approved
Awards / Grants | 2022-11-18
---
Tokyo, Japan – Nov 11th – CellFiber Co., Ltd., a biotech company providing plug-and-play biomanufacturing solutions with its unique cell culture platform technology, announced today that its grant application for the 7th CiCLE: Cyclic Innovation for Clinical Empowerment overseen by Japan Agency for Medical Research and Development (AMED) was approved. Total funds will be approximately JPY800 million (Approx. USD5.5 million) and will be used for developing its technology platform for medical grade manufacturing of cells up to 1011/batch. Additionally, to employ the technology platform, CellFiber Co., Ltd. plans to set up a process development facility in Japan that can be used from the early stage of cell & gene therapy product development.

· Background
For cell & gene therapy products, most phase 1 studies are conducted using a batch scale of 109 cells. Only safety and pharmacokinetics are prioritized in determining the manufacturing method, and unfortunately commercial viability is overlooked. Yet, once the manufacturing method is selected, it will be difficult to change later on due to the potential influence on cell quality. As a result, the cost of manufacturing remains insufficient, which leads to exorbitant drug costs and limits the numbers of patients receiving therapy.
· Objectives
CellFiber aims to develop cell manufacturing technology with commercial viability from the early stage of development for cell & gene therapy products. CellFiber™️ contributes to reducing manufacturing costs by scale-up while keeping cells' quality. The target is 1011/batch cells under closed and GMP environments. Additionally, to diffuse the technology, CellFiber aim to set up a process development facility that can be used from the early stage of cell & gene therapy product development.
· CellFiber™️
Cell Fiber's cell culture technology consists of specialized equipment that generates long, hollow fibers that are porous and uniform microtubes. Fibers enable scale-up with ease by providing a stable biomimetic microenvironment to cells and protecting cells from shear stress. Since the microenvironment surrounding cells maintains a steady state, high quality cells can easily be cultured to high density cell growth. Also, because of these attributes, a robust manufacturing process can be optimized even at an early stage of development.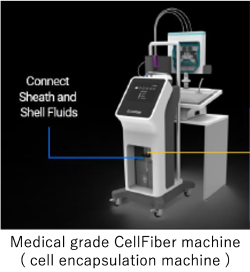 CellFiber has already achieved to manufacture 1010 cells/batch for multiple cell types and has obtained proof of concept data that shows comparability and safety to an already approved product. The first GMP machine prototype has already been developed.

· CellFiber Co., Ltd.
CellFiber is a biotech company spinout of University of Tokyo with a unique cell culturing technology that can enable dramatic cost reductions in cell production. The platform technology, CellFiber™️, enables higher yields and product quality and ensures stability, predictability, reproducibility, and scalability of cells for cell and gene therapy applications.