[News] CellFiber and Hitachi Announce Collaboration to Co-develop cGMP Cell Manufacturing Equipment for Advanced Therapies
Others | 2023-05-31
---
Tokyo, Japan – May 26th – CellFiber Co., Ltd., a biotech company providing plug-and-play biomanufacturing solutions with its unique cell culture platform technology, announced today a collaboration with Hitachi Ltd. who has a track record of developing automated cell culture equipment, cell culture processing facilities and production management systems, to co-develop cGMP cell mass manufacturing equipment for advanced therapies. We are targeting to launch cGMP CellFiber Extruder into market by 2025.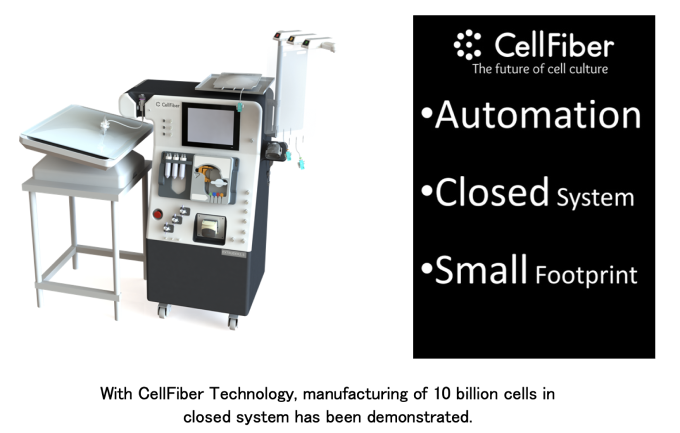 Background
Cells as medicine is becoming reality as a revolutionary treatment for diseases and disorders such as cancer. Currently, however, production volume of cell therapy products is only for several hundreds of patients per year. In addition, as the cost for medicine go up to millions, the numbers of patients are also limited.
One of the challenges for wide-spreading cell therapy is difficulty in cell culture scale up. In laboratory, quality cells can be cultured in milliliter to litter scale. However, in the industrial production, the volume become a dozen of litters scale. In such case, cells are affected by physical stress due to agitation, environmental difference in bioreactors (*1) and so on result in lower viability or a variation in cell quality. There has been no cell mass culture technology that can solve the issues.
We developed bio-manufacturing solutions using our unique cell culture platform technology, CellFiber™, to overcome above mentioned challenges. CellFiber™️ is cell encapsulation technology into hydrogel (*2) tube as thin as hair. By doing so, cells are protected from physical stresses and microenvironment for cells inside the hydrogel tube maintains constant. Thus, cell culture scale up can be done while maintaining cell quality. We have already achieved culturing 10 billion cells in closed system using CellFiber technology.
Collaboration
From 2021 to 2022, by collaborating with The Technology Partnership, CellFiber has developed the prototype of closed CellFiber Extruder in closed system (https://cellfiber.jp/en/News/83). In order for the equipment to be used in the actual manufacturing site, it is necessary to meet cleanliness (GMP grade, *3) required for manufacturing therapeutic products.
The first CellFiber Extruder video
This time, CellFiber Extruder will be combined with Hitachi's know-how in developing pharmaceutical manufacturing equipment. The collaboration will provide following benefits to pharmaceutical companies and CMOs/CDMOs (*4).
● It protects cells from physical stresses in a bioreactor and enables to culture cells in high-density and high-quality.
● It can reduce footprint significantly as it requires small footprint.
● Process development can be simplified since it provides constant microenvironment during cell culture regardless of scale.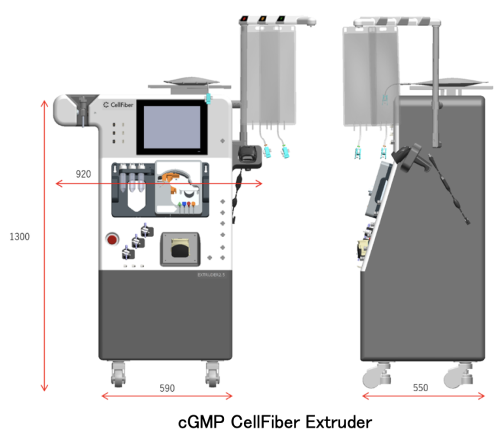 The collaboration is implemented as a part of ViCLE (Venture Innovation for Clinical Empowerment) grants provided by Japan Agency for Medical Research and Development.
*1 Bioreactor: Containers or equipment used for culturing cells and microorganisms.
*2 Hydrogel: A solid that absorbs water and swells without fluidity in itself. Jelly, agar or water-absorbent polymers are types of hydrogels.
*3 GMP (Good Manufacturing Practice): Manufacturing control and quality control standards required for manufacturers of pharmaceuticals.
*4: CMO/CDMO (Contract Manufacturing Organization/Contract Development Manufacturing Organization): CMOs are companies that provide manufacturing services to other pharmaceutical companies, while CDMOs are companies that offer both development and manufacturing services to other pharmaceutical companies.
CellFiber Co., Ltd.
CellFiber is a biotech company spinout of the University of Tokyo with a unique cell culturing technology that can enable dramatic cost reductions in cell production. The platform technology, CellFiber™, enables higher yields and product quality and ensures stability, predictability, reproducibility, and scalability of cells for cell and gene therapy applications.