[News] CellFiber and Locus Cell announce Cooperation Agreement for the Development of Cell Manufacturing technology
Co-research | 2023-06-12
---
~ Collaboration with Asia's Largest CDMO to Realize Mass Production of
Cell and Gene Therapy Products~
Taipei, Taiwan, June 5th, 2023 - CellFiber Co., Ltd., a start-up developing cell mass production technology, announced today a MOU (Memorandum Of Understanding) with Locus Cell Co., Ltd., one of the largest CDMO (*1) in Asia. Through this MOU, CellFiber provides Locus Cell its proprietary cell manufacturing technology and Locus Cell provides its manufacturing capability. Essentially, the cooperation aims to:
・Realize mass production technology that manufactures a substantial number of cells for cell and gene therapy.
・Provide low-cost large-scale manufacturing platform of quality cells.
・Accelerate the social implementation of CellFiber technology.
​
​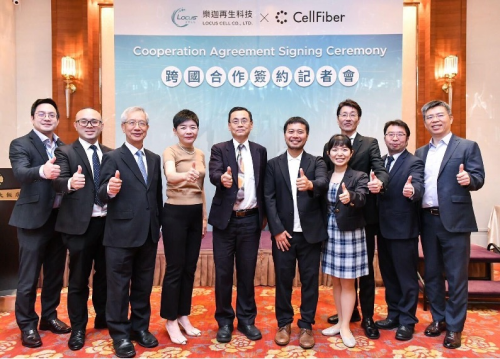 CellFiber Technology and Locus Cell
Cell and gene therapy is expected as a breakthrough treatment for various diseases and disorders such as cancer. Currently, however, cell and gene therapy products are extremely expensive and limited to a small number of patients due to challenges in the cell mass production process.
CellFiber developed a cell culture platform technology that overcomes challenges and enables mass production of high-quality cells. By encapsulating cells in a hair-thin tube which is made of hydrogel (*2), cells are protected from the physical stresses in bioreactors (*3), which penables to harvest huge amount of quality cells compared to conventional methodology.
Another challenge is difficulty in scaling up. In laboratory, quality cells can be cultured in milliliter to sub-litter scale. However, in the industrial production, the volume become a dozen of litters scale which changes surrounding environment for cells result in lower productivity. Within the tube, cells' microenvironment is maintained constant making the scaling up process simpler.
In addition to overcoming challenges, there is advantage. By installing CellFiber technology, actual manpower and physical footprint for production can be significantly reduced.
CellFiber has already demonstrated to produce 20 billion cells in a closed culture system using CellFiber technology. When it is commercialized, dramatic cost down can be expected.
Locus Cell was established in 2020, backed by Taiwan's abundant medical clinical resources and government. It aims to build the largest cell therapy factory in Asia by introducing advanced cell therapy products and technological resources from overseas. Locus Cell has a variety of cell production technology platforms such as chimeric antigen receptor T cells (CAR-T) (*4), induced pluripotent stem cells (iPSC), mesenchymal stem cells (MSC) (*5), immune cells, etc., with the ability to provide CDMO services.
Cooperation
The combination of CellFiber's culture technology and Locus Cell's cell manufacturing resources is expected to develop high-quality cell mass production platform in the actual manufacturing process of cell and gene therapy products. The two companies have agreed to the following;
・Work together to conduct clinical trials in Taiwan.
・Work together to obtain new clients.
・Conduct technical cooperation.
・Licensing for commercial use.
​
Comment from Mr. Ho Hong-Nerng, Chairman of Locus Cell
This cooperation between Locus Cell and CellFiber combines the expertise and experience of both companies and can be applied to the Locus Cell's CDMO technology platform in the future. The current CellFiber™️ technology enables iPSC to expand the cell yield more than 10 times higher than the conventional processes, while costing only 1/10th.
Comments from Mr. Yu Yanagisawa, CEO of CellFiber
We are very excited to enter into this partnership with Locus Cell. The combination of the cell culture technology we have developed, and the experience of Locus Cell brings us one step closer to our ambitious goal of creating a global standard for large scale cell manufacturing. We will continue to be a good manufacturing partner for pharmaceutical and biotech companies, aiming to bring the benefits of cell products to patients all over the world.
(*1) CDMO: Contract Development Manufacturing Organization.
(*2) Hydrogel: A solid that absorbs water and swells, but is not fluid itself. Jelly, agar, water-absorbent polymers, etc. are a type of hydrogel.
(*3) Bioreactor: A vessel or device used to culture cells and microorganisms usually for large scale.
(*4) Chimeric Antigen Receptor T Cells (CAR-T): They are taken from patients and genetically engineered to target cancer cells and kill them. CAR-T therapy is attracting attention because it is effective against blood cancers that are difficult to cure with conventional chemotherapy.
(*5) Mesenchymal Stem Cells (MSCs): They are a type of stem cell that has the ability to differentiate into different cells. Multiple cell therapy products using MSC, such as tissue regeneration or immune regulation, are in the market.
(*6) PIC/S GMP: It stands for Pharmaceutical Inspection Convention and Pharmaceutical Inspection Co-operation Scheme. It is an informal cooperative organization between inspectors for the development, implementation and maintenance of internationally harmonized GMP standards and inspection authority quality systems in the pharmaceutical sector.
CellFiber Co., Ltd. (https://cellfiber.jp/, Twitter@ Cellfiber_JP, LinkedIn#CellFiber)
CellFiber is a biotechnology company with its proprietary cell culture platform technology, CellFiber™️. Its breakthrough technology enables high yield of quality cells, and its stability, reproducibility, and scalability of culture scale can significantly reduce the cost of cell production, development costs, and time required for production.
Locus Cell Co., Ltd. (http://www.locus-cell.com/en.html)
Led by Dr. Ho Hong-Nerng, former president of Taiwan University Hospital Dr. Kazuchika Furushi, former CEO of Hitachi Group and Minaris, the world's No. 1 provider of cell therapy CDMO was involved in the establishment. The company will build a PIC/S GMP(*6)-compliant cell factory in the Hsinchu Biomedical Park and focus on CDMO services for cell products. Introducing advanced cell therapy products and technological resources from overseas and partnering with Taiwan's abundant medical clinical resources, the company will build the largest cell therapy factory in Asia. Focusing on contract manufacturing from domestic and foreign cell manufacturers, enter the global regenerative medicine supply chain with an international vision of cooperation between Taiwan and Japan, and jointly create glory with Taiwan's bio-industry.