Regenerative Medicine JAPAN Exhibition Report
Conference | 2023-11-02
---
CellFiber Co., Ltd. unveiled our closed and automated cGMP Extruder prototype for fiber production at the "Regenerative Medicine JAPAN 2023" (Pacifico Yokohama, 11-13th October), in collaboration with Hitachi, Ltd.
During the exhibition, we had the opportunity to present our technology to a diverse audience, not only professionals from the field of Regenerative Medicine, but also pharmaceuticals, and CDMOs from the Cell and Gene Therapy industry, all of whom expressed a keen interest in expanding their production capabilities.
There was a notable presence of Mr. Yasutoshi Nishimura, Minister of Economy, Trade and Industry of Japan, who graced the event to visit Japanese startups to offer his words of encouragement and support.
CellFiber Co., Ltd. is committed to advance the adoption of our technology in the field of Regenerative Medicine and Cell and Gene Therapy. The pivotal milestone at this event fuels our pursuit of this mission. Should you have any interest in scaling-up your cell culture, our technology, or our overall business, we invite you to contact us.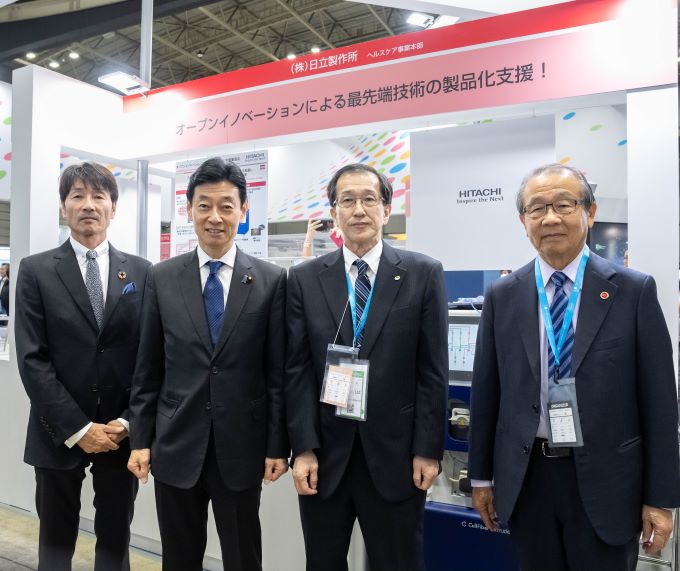 Photo of the Regenerative Medicine JAPAN venue (from right: Mr. Nagayama, President, Bioindustry Association of Japan; Mr. Amemiya, Head of Advanced Medical Solution Center, Healthcare Business Division, Hitachi, Ltd; Mr. Nishimura, Minister of Economy, Trade and Industry; Mr. Furuishi, Director and CSO, CellFiber Co., Ltd.)