CellFiber raises US$3.1 million Series A to advance the development of a cost-effective cell mass culturing platform
Fund raising | 2022-05-17
---
Tokyo, Japan, May 12, 2022 – CellFiber, a biotech company developing plug-and-play bio-manufacturing solutions using its unique cell culture platform technology, today announced that it has raised US$3.1 million in a Series A financing round. The financing round was led jointly by Real Tech Fund run by Real Tech Holdings CO., Ltd. and Daiwa Corporate Investment Co., Ltd.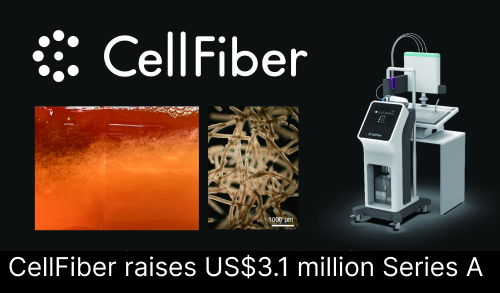 Proceeds will be used to further expand key personnel and to develop IP strategies for the development of a scalable GMP instrument which is already underway through partnership with The Technology Partnership, a British company. The instrument is used to enable the affordable production of cells for cell and gene therapies in a small footprint.
■Technology
CellFiber's technology consists of a porous, hollow, and uniform gel tube which encapsulates the cells to be cultured. The tube is only a few hundred micrometers in diameter but spans for kilometers in length. Cells are encapsulated in the tube and then cultured in a standard bioreactor, such as a wave bioreactor, to achieve high rates of cell expansion (e.g. from 20 million cells to 13 billion cells in just 10 days).
The outer gel tube protects cells from shear stress and prevents aggregation. As a result, the technology maintains cell growth longer than conventional methods such as 2D culture in the tray or suspension culture by bioreactor. Furthermore, if the contained cells secrete substances, these substances pass outside of the fiber wall while living cells remain inside the hollow tube. CellFiber's technology is a useful platform technology for bio-production. It enables cell culturing of quality cells to high density which in turn makes the production process more efficient.

■Real Tech Fund commented, "Subsequent to previous funding in October 2020, we are happy to join again in this Series A round. Since the last funding, CellFiber achieved more than a 10-fold increase in cell density inside the fiber culture. Additionally, there were many improvements such as spheroid culture, improved homogeneity, preservation, simplified harvesting method, and so on. We believe the uniqueness and advantage of CellFiber technology are becoming more evident Furthermore, its potential is being recognized by large pharma companies. Over the past year and a half, we've observed CellFiber's growth as an entity, and we are delighted to support and work together with the CellFIber team to bring new methods to the Cell & Gene Therapy market."
■DCI commented, "CellFiber technology can be a platform to produce cell products for regenerative medicines, drugs, cultured meat and many other opportunities. We are on board CellFiber's ideals that are made by their representatives CEO Yanagisawa and CAO Adachi, who strongly believe that technology makes a better world, and also CellFiber's inventors, Professor Takeuchi, Okitstsu, and Onoe.
--------------



■About CellFiber Co., Ltd.
CellFiber is a biotech company spinout of the University of Tokyo with a unique cell culturing technology that can enable dramatic cost reductions in cell production. The platform technology, CellFiber™, enables higher yields and product quality and ensures stability, predictability, reproducibility, and scalability of cells for cell and gene therapy applications.
■About Real Tech Holdings Co., Ltd.
A joint-venture company established by Euglena Co., Ltd. and Leave a Nest Co., Ltd. It was established to implement innovative technology (Real Tech) which can be the solution to global challenges. The investments will be supported by Euglena Co., Ltd. which overcame numerous hardships as a technology-driven start-up, and Leave a Nest Co., Ltd. which has been supporting the implementation of technology in society.
■About Real Tech Fund
Real Tech Fund is a venture capital fund that invests in start-ups that own innovative technology that can be solutions to global challenges. To maximize/accelerate social implementation, it coordinates with government, enterprises, and municipalities inside and outside Japan. It invested in more than 60 start-ups and over JPY20 million. By 2021, it established the first Impact Investment Fund in Japan as a fund that invests deep-tech sector.
■About Daiwa Corporate Investment Co., Ltd. / DCI venture growth support fund
Since the establishment of Daiwa Corporate Investment Co., Ltd. in 1982, it has been inventing venture companies with its network, experience, and know-how through Daiwa Securities Group Inc. It has led many companies to grow or be Listed on the stock exchange. The fund is aiming to invest in start-up companies that have new technologies or services that create high values for the world.